When most of us were growing up we all had a debate over who was the best. Well over on the Lethal Entertainment message boards we have been having such a discussion over who is the best.
And by best, I mean hottest woman in rasslin.
A lengthy selection process took place where nominations were cast for the Lethal Entertainment Women Of Rasslin tournament. 32 women wrestlers & 32 Valets in a bracket tournament from hell. There will be only one who can be crowned the hottest of all time. There will be plenty of pictures for all you pervert's out there to add to your hidden libraries, so sit back and enjoy.
The rules are simple. Under each match up will be a poll. Simply vote on who you think is the hotter (i.e. who has the better fuckability) of the two.
Today we will be introducing the Women's Wrestler bracket. Some of these women are damn fine athletes who are way better then some men. The others…not so much. But I think with this bracket we have a fine mix of talented ladies (you decide what we mean by talented).
Number 1: Trish Stratus
This woman needs no introduction, but I'll give one anyway. Trish Stratus. The mold and model for every model turned wrestler the WWE has signed since the latter part of the 2000's. They have tried hard, but never come close to finding another Trish. Named the WWE Diva Of The Decade, Trish busted her ample ass to not only be the desire of many men and women's dreams but also to be just as good in the ring as in front of a camera.
________________________________________________
Number 2: Madison Rayne
Okay now this woman needs an introduction since how many of you actually watch TNA? This is Madison Rayne. Originally the third wheel of The Beautiful People, she managed to work her way up from the girl who gave an implied blowjob to Slick Johnson on a PPV (seriously it happened) to the Queen bitch of the Knockouts division. She is the longest reigning TNA Knockouts Champion in history (if that counts for anything).
________________________________________________
Number 3: Gail Kim
One of my personal favorites, Gail Kim recently told the WWE to go fuck themselves since she was getting the "creative has nothing for you" runaround. She was the first woman to hold both the WWE Women's and TNA Knockout's championships. She was a proven draw for TNA and wanted to resign with them, but TNA felt the money would be better spent on more important things then some brawd. A few years ago she posed semi-nude for some Korean cell phone company. Those are some good pics.
________________________________________________
Number 4: Angelina Love
The woman who got Taz to coin the phrase "LET THE PIGEONS LOOSE", Velvet Sky was the other half of the original Beautiful People. She was the ass compared to Angelina's rack. Over time Velvet has become one of the spunky babyfaces and is probably going to be TNA Knockouts champion sooner or later. Granted like most things TNA it will be very late, but better late then never.
________________________________________________
Number 5: Tara (a.k.a. Victoria)
Tara a.k.a. Victoria is also one of the few who have held both the WWE Women's and TNA Knockout's championship. She originally debuted as one of the Godfather's Ho's who got promptly put through a table by the reformed Goodfather. Her most memorable feud was when she re-debuted in the WWF in 1999 and had a feud with Trish Stratus over "issues" from when they both were on the fitness model circuit. Tara left the WWE in 2009 when she announced she was retiring from wrestling to peruse MMA. But probably after seeing Cyborg Santos destroy a bunch of women she figured an easy paycheck from TNA would be better. Since then she had a memorable feud with Awesome Kong and was Madison Rayne's implied lesbian lover and then slave. She's now one half of the Knockout's Tag champions with Brooke Tessmacher.
________________________________________________
Number 6: The Bella Twins
We can't tell them apart other then one of them has a tattoo above her snatch. Nikki won the WWE Diva's championship earlier in 2011 much to the delight of yours truly and the dismay of joshi purists everywhere. They get a lot of flack for not being that good, but they look smoking hot in vinyl outfits so that's good enough in my book.
________________________________________________
Number 7: Cheerleader Melissa
The Future Legend, Cheerleader Melissa is considered by far one of the top ranked women's wrestler's in North America if not the entire world. Getting her start in the Bay Area's APW, Melissa has become one of the most respect and hard-hitting women in da business. She takes on all comers and usually curb stomp's them into submission. Recently she appeared with Raven and Shelly Martinez in music video/short film for the Smashing Pumpkin's song "Owatta"
________________________________________________
Number 8: Ivory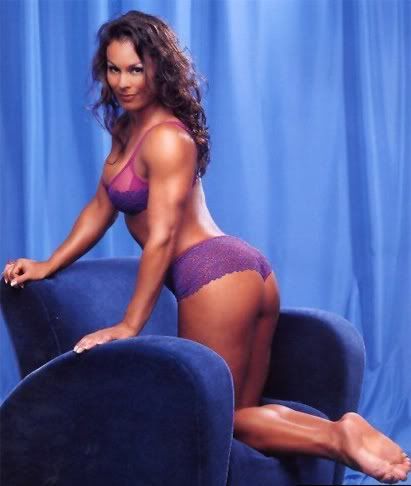 Getting her start in G.L.O.W. and it's successors Powerful Women Of Wrestling and Ladies Professional Wrestling Association, originally coming to the WWF in 1999 to be Mark Henry's "love interest", she quickly became a spunky force for the latter part of the next decade. Her peak probably was when she joined The Right To Censor and she wrestled in an outfit that looked like something a librarian would wear. After leaving the WWE, she's wrestled in the Northwest Indy scene and became a dog groomer. Make of that what you will.
________________________________________________
Number 9: MsChif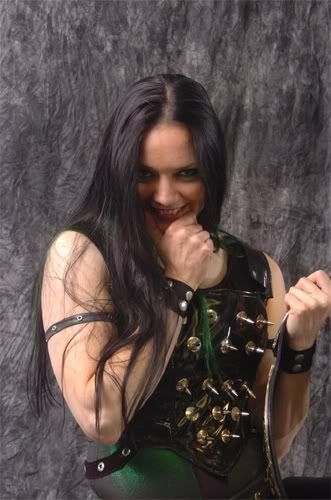 Probably one of the best female wrestler's in the entire world and she's never wrestled in the WWE or TNA. But despite that she has a devoted following from her work with Shimmer and NWA Mid West. In addition to forming a duo with Goth sweetheart Daffney, she is known for being able to be bent into un-godly positions. When she's not wrestling, MsChif is a Microbiologist. So not only does she kick a lot of ass, but she also can cure the common cold.
________________________________________________
Number 10: Nikki Roxx (Roxxi)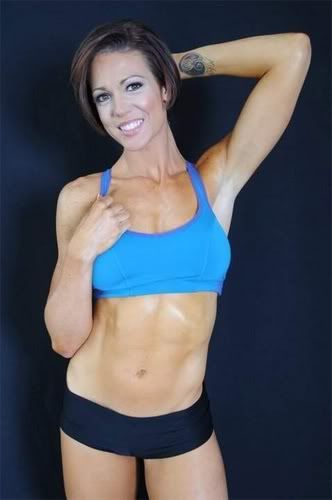 Nikki Roxx also known as Roxxi in TNA is probably one of the most well rounded female wrestlers on the east coast. She is also becoming an accomplished female bodybuilder and fitness competitor. She had a good run in TNA including getting her head shaved, but since it's TNA they treated her like shit despite her going above and beyond the call of duty. But hey she's just a chick, it's not like she was a big star in the 90's.
________________________________________________
Number 11: Melina Perez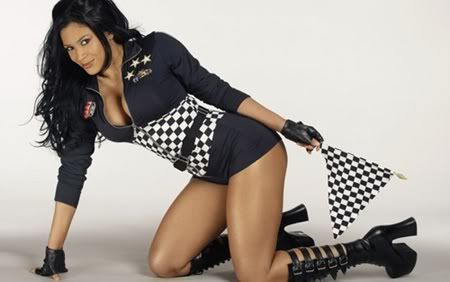 Melina is the allegedly mentally unbalanced girlfriend of John Morrison. She also had a fling with Batista and allegedly Mike Knox and his beard. Morrison is in the WWE doghouse because of her and her mouth. She was recently released from the WWE, but she is making the most of it with her legion of fans online doing artistic modeling and Indy spots in the up coming months. She can do a full horizontal split so I'm guessing there's a reason why Morrison stays with her despite the detriment to his WWE career.
________________________________________________
Number 12: Ayako Hamada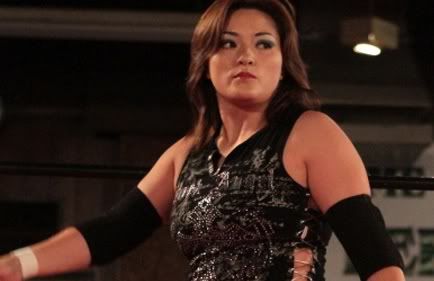 The daughter of Japanese wrestler Gran Hamada, Ayako made a name for herself in her native Mexico where she is a huge star. In addition to work in Japan, she debuted in TNA to much fan fare. But in TNA when someone they don't want gets over they end up getting buried and Hamada floundered for the most part. She won the Knockouts tag title with Taylor Wilde, but other then that they didn't do shit with her. She left TNA and wrestles for SHIMMER and other companies where she is appreciated.
________________________________________________
Number 13: Wendi Richter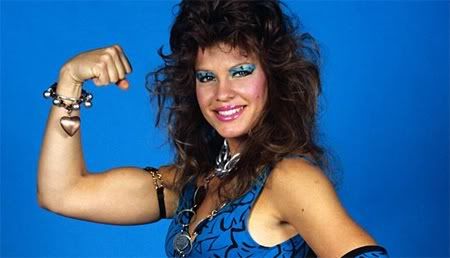 The woman who ended the nearly 30 year reign of terror of The Fabulous Moolah to win the WWF Women's Championship in 1984 on the Brawl To End It All special on MTV. It garnered a 9.0 rating making it the highest rated show in MTV history. Richter was also the first person to get screwed by Vince McMahon when she didn't resign as quickly as he wanted her to. She lost the WWF Women's Championship to The Spider Lady who turned out to be The Fabulous Moolah under a mask. As big as Hulk Hogan was, Wendi Richter and her partnership with Cyndi Lauper were just as much the reason why the WWF exploded in the mid 80's.
________________________________________________
Number 14: Molly Holly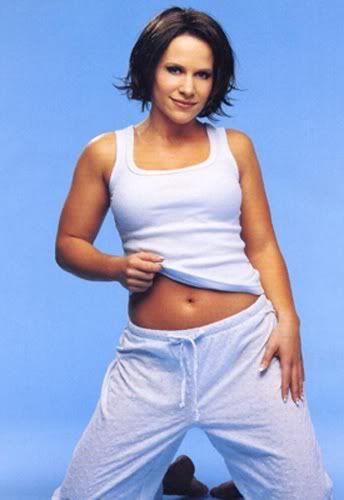 If Professional wrestling has a patron saint of morals and virtues it is Molly Holly. There is literally not a bad thing that can be said about this woman. She played her role of a prude to a tee. She originally debuted as Ms. Madness with The Macho Man, Madusa, and Gorgeous George in WCW. But her big break came as the innocent and pure cousin of The Holly's. She also was the sidekick of The Hurricane at one point. She eventually left wrestling and started doing missionary work, but she still makes the rounds at conventions and she's as sweet now as she was back then.
________________________________________________
Number 15: Candice Michelle
Candice Michelle was one of the original Diva search contestants in 2004. Before that she was a modeling doing nude and fetish shoots. She also appeared on a couple Skinamax shows in the early part of the decade doing some lesbo three-way action. It seemed she was doomed to be just another model that awkwardly tried to wrestle, but something miraculous happened and she actually got good. She worked her way up and won the WWE Women's Championship. But her career pretty much came to an end in a match against Beth Phoenix when she fell from the top rope and landed on her head and broke her collarbone. She never quite recovered and ended up retiring a year later. But for a while she had a hell of an improved run.
________________________________________________
Number 16: Sara Del Ray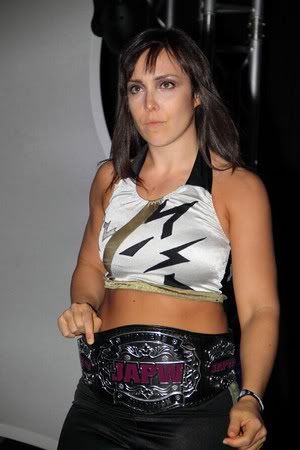 Another Indy darling, Sara Del Ray has been a mainstay in SHIMMER, ROH, Chikara, and other companies. She is ranked up there as one of the best women wrestlers in America and can out wrestle most men. With the nick name Death Rey she means business and she loves to make women and some men tap. Gotta love the dominant types.
________________________________________________
Number 17: Lita
The woman who sent Matt Hardy on his first spiral out of control, Lita was one of the top stars of attitude era. She made wearing pants with a thong sticking out cool and she wasn't afraid to do some high-risk moves. She originally debuted as the redheaded chick with Essa Rios. She tried to do a Frankensteiner on Eddie Guerrero on the floor on an episode of RAW and he promptly power bombed her onto the concrete with a splat that still can be heard today. She was the real life girlfriend of Matt Hardy and for a while she was knocked up with Kane's baby. Real life got interjected when Matt Hardy found out she had been sleeping with Edge. Edge and Lita became an on screen couple and she went through with a Live Sex celebration when he first won the WWE Championship. She eventually retired are tiring of the WWE's bullshit. She now fronts a punk band called The Luchagores and may or may not have been in a relationship with CM Punk in the last year.
________________________________________________
Number 18: Taylor Wilde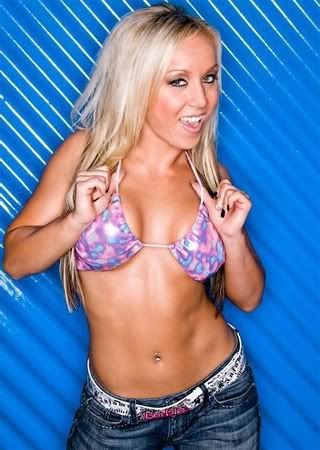 Taylor Wilde was coming up the WWE developmental system where she was going to have some sort of gimmick on Smackdown where she would wrestle in inter gender matches under a mask. But for some reason she was released and she eventually found herself in TNA. She beat Awesome Kong to win $25,000 and the TNA Knockouts Championship. She had a good run in TNA, but like many before her when she wanted more money TNA said they couldn't afford an extra hundred bucks and she eventually left TNA and had left wrestling to go back to college. TNA telling women they can't afford to pay them more is a recurring pattern. But they seem to have money for Hogan and his buddies.
________________________________________________
Number 19: Daizee Haze
Yet another Indy darling. Daizee is a regular with Ring Of Honor, SHIMMER, and Chikara Pro. I honestly haven't seen much of her work, but I do know she is one of the trainers at the SHIMMER School. She too like Sara Del Rey is an outstand wrestler and she has been in many inter gender battles taking some hard shots (no pun intended) from men. Most of her character is that of a stoner hippie as a tribute to her hippie father and she mimic's much of her friend Delirious's character. Outside of wrestling she study's Exercise science and designs wrestling outfits for men and women.
________________________________________________
Number 20: Michelle McCool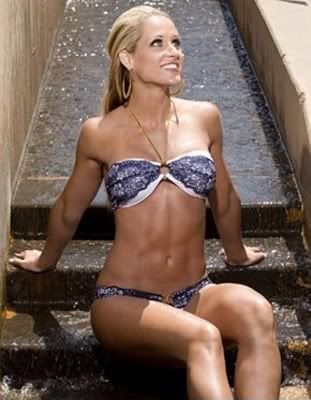 The former school teacher/volley ball player turned Undertaker's Old Lady. McCool basically became the Queen of Smackdown because she was with The Undertaker. She became the first woman to hold the WWE Women's and Diva's championship. But aside from being an Old Lady, she had the bitch persona down to a tee. She later formed a team with Layla called Lay-Cool. When The Undertaker went into semi-retirement she suddenly decided that she had made her mark and she wanted to retire and she lost a loser leaves town match to Layla in early 2011.
________________________________________________
Number 21: Jazz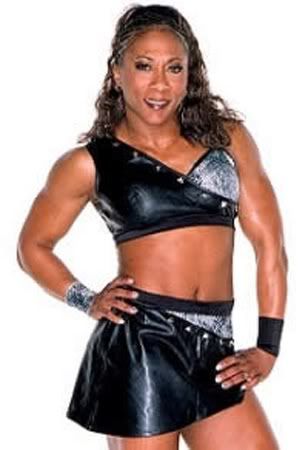 Originally debuted in ECW as part of the Impact Players. She eventually turned face and feuded with Jason and then would randomly run in on people's matches. She went to the WWE and won the Women's championship. At Wrestlemania 19 she successfully defended the title in a triple threat against Trish Stratus and Victoria. She left in 2004 when creative had nothing for her. Outside of wrestling she's married to Rodney Mack and runs a wrestling school in Louisiana called The Dog Pound.
________________________________________________
Number 22: Kelly Kelly
She got her job when Johnny Ace was spanking off on company time and discovered her in a swimsuit catalog. Her real name is Barbie Blank (you can't make that up). She debuted in ECW as Kelly Kelly and she would do strip teases only to be stopped by her cock-blocking boyfriend Mike Knox. She eventually started wrestling in matches and has worked her way to the point where she at least hasn't killed herself or her opponent. For some reason she is deathly afraid of running the ropes. She is the current WWE Diva's Champion much to the dismay of Beth Phoenix fans everywhere.
________________________________________________
Number 23: Natalya Neidhart
Natalya Neidhart is the first third generation women's wrestler in the WWE. The granddaughter of Stu Hart and Daughter of Jim "The Anvil" Neidhart she has become a favorite amount women's wrestling fans. She also has quite the badonkadonk. Despite being a Hart her only downside is she does a piss poor sharpshooter. Aside from that she has recently formed a team with Beth Phoenix as The Diva's Of Destruction. They aren't in the matching outfits part yet, but they do wear spikes, which is a plus.
________________________________________________
Number 24: Maryse
Another former model from the diva search. Maryse has appeared in the special editions of Playboy. At first she was just this French chick telling you that you are watching Smackdown. Eventually she started wrestling and became rather good at it. She moved to RAW probably because Ol Lady McCool didn't like someone doing the bitch act better then her. She is the real life girlfriend of The Miz. A year or so ago they did tease them two becoming an item on television to become the WWE's Heidi and Spencer, but after a month nothing happened and The Miz told her to hit the bricks. Before suffering an abdominal injury, she was mostly relegated to six diva tags and if she was lucky she was the one pinned by Kelly Kelly or Eve.
________________________________________________
Number 25: Layla El
A former Miami Heat dancer, she won the WWE Diva Search in 2006. For a while she was just used as a dancer on television. Eventually she did start wrestling and wasn't too bad. She really improved over the last year and hit her stride as part of Lay-Cool. She was the last official WWE Women's champion before the title was merged with the Diva's championship (Michelle McCool wormed her way into getting the title so she ended up being the one to unify the titles). She did end the reign of terror of Michelle McCool so for that women wrestling fans and the Smackdown Divas will be forever grateful to her.
________________________________________________
Number 26: Winter (Katie Lea)
Katie Lea a.k.a.Winter is a Time Traveling Lesbian Vampire and current TNA Knockouts Champion. I don't think anything else has to be said about her after that.
________________________________________________
Number 27: Brooke Tessmacher (Adams)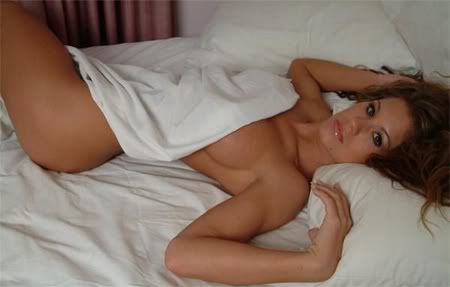 The other half of the TNA Knockouts Tag Champions, Brooke Tessmacher (Brooke Adams on the Hooters pageant circuit) is yet another former Diva search contestant who started doing that wrestling stuff. Like Layla she too was just given the role being a dancer in ECW. After being released from the WWE she did a lot of modeling. She resurfaced earlier in 2011 as Uncle Eric's assistant Miss Tessmacher. Her whole thing was she wore tight blouses that showed off her cleavage. After she was "fired", they gave her the option of wrestling and much like Kelly Kelly she has managed not to kill herself or anyone else yet. Matter of fact she and Kelly do a lot of the same moves, including the Stinkface. Brooke has the ass to do it though.
________________________________________________
Number 28: Madusa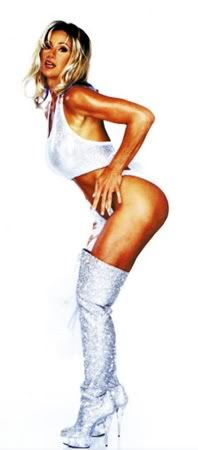 The only woman to ever hold the AWA, and WWF Women's World Championships, Madusa is an old favorite. After dominating the AWA she went to WCW in the early 90's and was Paul E. Dangerously's valet for The Dangerous Alliance. She also was wrestling Japan and was quite popular over there. Legend has it she posed nude Playboy but never signed the release because she landed a tour with All Japan. The pictures would have been a negative for her career at the time. She eventually went to the WWF and the resurrected Womens division was built around her. In 1996 she re-signed with WCW and famously threw the WWF Women's Championship in the trash. She came up short in winning the WCW Women's Championship and retired in 1997. She came back in 1999 as part of Team Maddness and then Russo had her doing all kinds of wacky shit including shilling WCW Nitro Cologne in a bikini and then having her spill it to say it smells like dog piss. Madusa traded wrestling for Monster trucks and she drives the MADUSA monster truck and does pretty well at it.
________________________________________________
Number 29: Beth Phoenix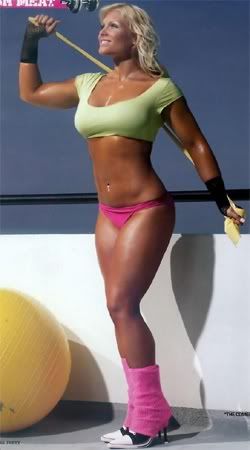 The current main squeeze of CM Punk, Beth Phoenix is by far the best female wrestler in the WWE. Along with her Diva of Destruction partner Natalya, they are hell bent on destroying all the Barbie's in the company. A memorable moment of Beth's was in 2007 when she took Melina's leg and bent it backwards and had her kick herself in the head with her own leg. Gotta love a woman who can bend someone like that.
________________________________________________
Number 30: AJ Lee
AJ Lee is one of the women from NXT season 2. She has a cult following of geeks and dorks because she is one herself. The word to describe her is Adorkable. She is so damn cute and every week on Smackdown she is usually getting murdered by Beth or Natalya. She can take a beating and still comes out all cute and cuddly.
________________________________________________
Number 31: Chyna
Originally coming in as the bodyguard of Hunter Hearst Helsmley, Chyna transformed from someone having the face of a gym teacher to the Chyna that has one of the biggest selling issues of Playboy…ever. She also won the WWF Women's championship, but after Triple H started banging Stephanie McMahon she saw the writing on the wall and left the WWF in 2001. For the most part she stayed out of wrestling during the rest of the decade instead becoming a train wreck of a different sort on reality shows and in the press. A sex tape with her and X Pac was released called "One Night In Chyna" during this time. She made a one night return to wrestling in TNA teaming with Kurt Angle to take on Jeff and Karen Jarrett. But TNA of all companies decided they had morals when Chyna's new profession porn with Vivid called "Backdoor into Chyna" came out. Of all the things TNA lets slide, Porn is where the line is drawn.
________________________________________________
And finally…Number 32: O D B
She's the female Stone Cold. She loves to drink and kick ass. She debuted with OVW and created the OVW Women's Championship for herself. She was also the first OVW alumni to not go to the WWE. She signed with TNA and was an actual proven draw for them. But much like Gail Kim, Awesome Kong, and other women who wanted more money, she was told sorry we just can't afford it. TNA really screwed her over as she was one of the most over people in the company and it took them over a year before she finally won the Knockouts championship. Her motto is she's not just another pretty face and it shows.
So there you have it. The 32 Women in the Wrestlers bracket of the Lethal Entertainment Women Of Rasslin tournament. In our next installment it will be the 32 Valets in the competition.
By the way if you haven't figured out by now, the number they were listed are not only their seed but also whom they will be facing in straight order. Gotta love that bracketolgy bullshit.
There were a lot of women we left off. Some because we ran out of room, other's because I felt like it. But over all this is a balance of the past and present of hot chicks in wrestling.
So on that note COMMENT as you see fit.
E-mail me at PhantomLordNYC@yahoo.com
Bug me on my Facebook page under my given name http://www.facebook.com/josephrd